About Us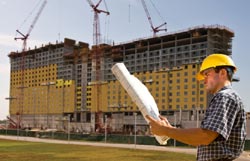 The National Air Barrier Association (NABA) began in 1995 as a way to address the issue of the air barrier industry. Canada Mortgage and Housing Corporation (CMHC) estimated that approximately $500 million dollars a year was being spent on premature building failures. A major cause of the problems was improper air barrier systems.
NABA began to design a program to ensure quality installations of air barrier systems. In consultation with contractors, utilities, installers, architects, engineers, specification writers, building owners, the Building Professionals (BP), and other construction associations, NABA designed a quality assurance program based on the ISO 9002 model. This program included proper research and development, standards and specifications, manufacturer licensing, licensing of contractors, training and certification of installers, documentation and reporting, and a third party audit process.
In 1996, after thousands of hours of work by many individuals, the association initiated the process of the Quality Assurance Program. Since 1996, the association has been successful in promoting the system within the design community embracing the system as "standard practice" in Manitoba.
NABA's membership consists of contractors, manufacturers, design professionals, testing agencies, consultants and utilities.
Today, NABA continues to gain momentum as it works with contractors, manufacturers, architects, engineers, consultants, and building owners, to increase the skill level and professionalism in the air barrier industry across Canada. NABA is actively pursuing the expansion of the program across Canada and is currently working on setting up contractors in British Columbia, Alberta, Saskatchewan, Ontario and the maritime provinces.
NABA is the one-stop resource center for your air barrier needs.