Course Modules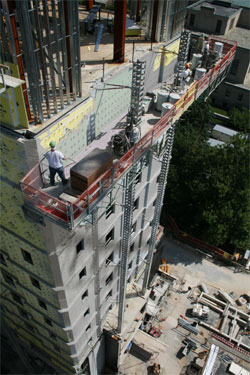 The Commercial Air/Vapour Barrier system Training Program (CAVB) gives students a comprehensive understanding of air/vapour barrier application in both new and retrofit construction.
The CAVB program is designed to take students through a series of modules combined with actual on-site work experience to receive the full certification for this program. A Certification Challenge course is in place for students who already have the required hours of experience. This is a condensed course of all the modules, along with a practical component where the installer is required to demonstrate his practical ability.
Course Modules include:
Installer Ethics & Responsibilities: installer's legal and job site responsibilities in regards to the proper application of AVB systems. History and background of industry.
Health & Safety Series: the safe use of propane, hoisting & rigging, Fire protection, First Aid/CPR, suspended access equipment safety, Workplace Hazardous Materials Information System (WHMIS). Each of the modules in this series can be delivered separately or as one complete module.
Building Science: The effects of heat, air, and moisture flow on a building and how the retrofit or new construction will impact on the building.
Material Selection: Proper selection of self-adhered, torch grade, liquid, and sheet metal AVB materials. Identification of characteristics and performance, compatibility and limitations of material, and safe material handling.
Substrate Conditions and Preparation: substrate preparation and procedures for concrete block, pour in place concrete, exterior drywall, steel frame, plywood, and metal liner systems. Assessment of substrates general condition, structural soundness, contaminates, cleanliness, temperature, moisture content. The correct and safe use of primers.
Application Technology: the proper application technique for installing self-adhered, torch grade, spray on, and sheet metal AVB systems on a variety of substrates and conditions.
Continuity and Compatibility of Components: the proper application of AVB systems and joints and junctions including roof, subgrade, windows, doors, mechanical systems, electrical systems, masonry ties, and other support systems.
Testing & Inspection: testing and inspection protocol during construction including visual inspection, sound tests, smoke tests, pressure differential, adhesion/cohesion, and structural stability. Post-Construction testing including thermography, quantified air flow, and whole building air pressure differential testing.
Documentation & Reporting: proper reporting procedures including daily start up check sheets, daily work sheets, reporting of testing results and deficiencies, quality assurance program guidelines and procedures.
Codes & Standards: The understanding of National, International, Provincial, and municipal codes that relate to AVB systems. The understanding and application of national and industry standards for AVB products and installation criteria.
Plans & Specifications: Identification and interpreting construction drawings, blueprints, manufacturers and drawing, shop drawings. Identification and interpretation of construction specifications, engineering specifications, general specifications, and manufacturers specifications.