Testimonials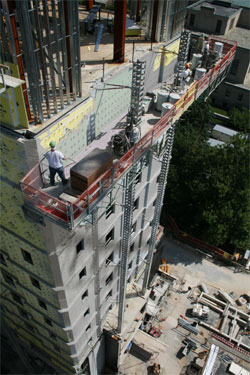 "Since becoming a member of NABA, we have seen an increased awareness from the professional community with respect to the quality of the final air/vapour barrier product. NABA has given the Licensed Contractor a voice with respect to building envelope detailing, producing a "buildable" building envelope which we can produce with confidence, and minimize our future liability, and still maintain our profitability."
Jim Lickley Clima Seal
"Since the inception of NABA, our company has enjoyed the enhanced profitability associated with establishing a method for providing consistent high-quality air/vapour barrier installations. The NABA Quality Assurance Program has allowed us to compete on a level playing field, and to give the owner top quality workmanship without the concern of competing with "fly-by-night" contractors. A NABA specified project is clearly a win-win situation for all involved."

Frank Ernst
Durwest Construction
"The association has given us structure to work around as well as very valuable backing and support. NABA has achieved much more than any individual air barrier contractor could ever do as far as quality control and overall stability to an industry that had none prior to its establishment. The program removes all of the initial and subsequent questions that an owner may have in regard to air barrier products and the air barrier contractor. NABA allows quality air barrier contractors to be recognized. This positive reinforcement makes a contractor strive for higher goals, and perform quality work on every project. I personally have been applying air barriers for 11 years and my air barrier company is 6 years old. Until NABA was formed there was no understanding of this trade. NABA has given my company a voice, but most of all, it has contributed to the respect we now receive as individual applicators and as a company. Thank you, NABA."
Trevor McRae
TFJM Construction
Click to download the Membership Brochure
Click to download the Membership Application
To view these documents, you will require to download and install the Adobe Acrobat reader to your browser. Click to download the Adobe Acrobat Reader.