Licensed Contractor Benefits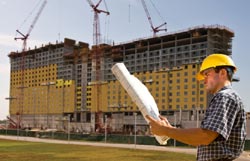 What are the benefits of becoming a Licensed Air Barrier Contractor? A good question that many contractors have asked themselves. In today's competitive environment, any advantage a Contractor has can make the difference between success and failure.
So why become a NABA Accredited Contractor? It is going to cost money, and now I have someone watching the quality of my work.
The air barrier industry is no different than other construction related industries. We see the number of buildings failures across Canada due to poor workmanship. Contractors now have increased liability and are responsible for the installation. You can no longer walk away when you are done. Unfortunately, many construction industries compete on an unlevel playing field that makes it difficult for Contractors interested in doing a professional job compete. If you are a Contractor that is quality oriented and strives for perfection, it can be an uphill battle at times.
Benefits of Being a NABA-Accredited Air Barrier Contractor
There are many benefits for you to become a NABA-Accredited Contractor, these include:
Compete on a level playing field amongst other Contractors who complete quality work, separating yourselves from those who don't
Reduce your call-backs, liability and subsequent related costs
Be promoted as the premier Air Barrier Contractor to building owners and the professional design community
Network with the leading professionals from across Canada
Bid and work on projects specified to utilize NABA Accredited Contractors and the NABA Quality Assurance Program
Receive technical assistance and support on your projects
Have a comprehensive written record of the installation
NABA promotes our Accredited Contractors to design professionals across Canada. We encourage the professional community to specify the NABA Quality Assurance Program and specify NABA Accredited Contractors in all air barrier projects.
The NABA QAP program is being embraced by the design professional community and building owners for ensuring their building envelope is one of superior quality.
What Will You Know Once You're NABA Certified?
Once an installer completes the NABA training program, he/she will have the ability to:
Read and understand plans and specifications
Ensure the compatibility of air barrier materials and accessories
Evaluate substrate conditions for application of material
Proper application of the material as per manufacturer's instructions
Ensure continuity over the entire building envelope
Undertake the required quantitative quality assurance testing
Complete the installation in a safe manner
What NABA-Accredited Contractors Receive as Members
As a NABA-Accredited Contractor, you'll receive:
Your company listed on NABA's nationally promoted website as a contractor with your contact information listed
Education and outreach tools to educate General Contractors, Design Professionals and Building Officials
Technical assistance on design, installation and quality control issues
New technical information based on new research, publications, industry initiatives and other resources to keep you current
Sponsorship and advertising opportunities at workshops, seminars and promotional functions.
NABA's training and certification programs provide a means to ensure applicators possess the necessary knowledge, skills and abilities to produce quality air barrier installations. Certification sets you apart from the competition and identifies you as a professional.
Why do I Need to Submit Job Bid Notifications and Awarded Job Notifications?
To ensure our and your continued success, we need your help. First, make sure you always send us your job bid notification when preparing to bid on an NABA-specified project. Second, communicate with us about awarded jobs, even if you are not the successful Air Barrier Contractor. When we know the project was awarded, we can follow up with the Architect and/or General Contractor to confirm the project was awarded to an NABA-Accredited contractor. The earlier we receive this information, the sooner we can begin the communication with the Architect and General Contractor.
What Happens when I Lose a Bid to a Non-NABA Contractor
We will contact the Architect and explaining our concern. Likely they will then provided us with the name of the General Contractor and give us permission to contact them to inquire about the situation further. Our QAP administration staff proceeded to contact the General Contractor to ensure the job was awarded to an NABA-Accredited Air Barrier Contractor. Upon receipt of the successful contractor's name, we confirmed they were not NABA-Accredited.
At this point, the Architect had two options, one is to remove the requirement for the project to follow the NABA QAP, two is to contact the General Contractor and insist the contract be awarded to an NABA-Accredited contractor, as per the project specifications. We will always work with the interested parties to ensure the NABA QAP program is not removed from the project master specification.
What are Costs for the NABA QAP?
There are upfront one-time costs for a project that is specified with the NABA QAP.
Since we have Auditors that inspect every job, those costs of the inspections are added into the Air Barrier Contractors bid price. NABA and the auditing firm will communicate that with the Air Barrier Contractor but typically they will be no less than $1000. The number of audits specified is dependent on how many the design professional specifies. The scale on the number of audits that NABA recommends can be found in Section 3 of all of our master specifications.
We also charge $0.06 per square foot of NABA-QAP specified for air barrier for projects within a 200km radius of the centre of the nearest major city and $0.10 per square foot for projects outside of a 200km radius of the centre of the nearest major city. Major cities are those including Vancouver, Victoria, Calgary, Edmonton, Saskatoon, Regina, Winnipeg, Ottawa, Toronto, Mississauga, Windsor, Kingston, Hamilton, London, Quebec City, Montreal, Charlottetown, Moncton, St. John's, Fredericton, Moncton, Charlottetown and Saint John.
The General Contractor needs to ensure that the awarded contract is awarded to a NABA-Accredited Contractor because if it isn't, the costs factored into the bid may not be comparable from a NABA-Accredited Contractor and a non NABA-Accredited Contractor.