Air Barrier Master Specifications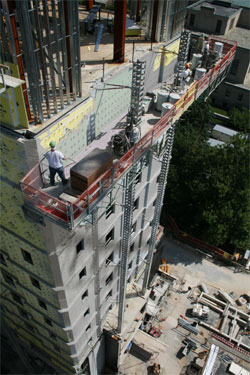 NOTICE
Please note that the information provided in NABA Master Specifications, based on current customs and practices of the trade, is offered in good faith and believed to be true, but is made WITHOUT WARRANTY, EITHER EXPRESS OR IMPLIED, AS TO FITNESS, MERCHANTABILITY, OR ANY OTHER MATTER. NABA DISCLAIMS ALL LIABILITY FOR ANY LOSS OR DAMAGE ARISING OUT OF ITS USE. Individual manufacturers and contractors should be consulted for specific information. Nominal values which may be provided herein are believed to be representative, but ar e not to be used as specifications nor assumed to be identical to finished products. ABAA does not endorse the proprietary products or processes of any individual manufacturer, or the services of any individual contractor.
The National Air Barrier Association (NABA) develops master specifications for various air barrier assemblies that will provide guidance to the design professional in the development of the final project specifications. These assembly specifications combin ed with proper installation details will provide the guidance for building professionals to specify the air barrier assemblies and to develop an air barrier system for their building.
NABA Air Barrier Master Specifications
These specifications provide guidance to the design professional. Depending on the material used, these specifications are for an air barrier assemblies cons isting of various materials which may or may not be vapour permeable.
Where these materials provide more function than the primary air barrier material, the design professional shall consider other design requirements for the material to fully deliver the intended function and to design the wall based on proven documented building design principles.
The design professional shall consider where these materials shall be placed in the wall assembly based on the function(s) they are intended to provide, test property results (ie. vapour permeability) and the climatic conditions where the project will be located.
NABA Air Barrier Master Specifications
NABA Air Barrier Master Specifications
Each of NABA manufacturer member has published a air barrier master specification for each air barrier material. Click here to see the air barrier assembly listing page to download the master specification for each material that has completed a ASTM E2357 'Standard Test Method for Determining Air Leakage of Air Barrier Assemblies' or CAN/ULC-S742 'Standard for Air Barrier Assemblies - Specification' test.