Course Overview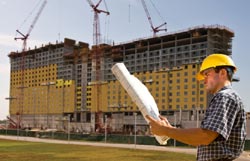 Do you want to be a part of a new and exciting industry? Have you ever thought about becoming a Certified Air/Vapour Barrier Systems Installer? The National Air Barrier Association (NABA) has answered the need for training in this new technology with their Air/Vapour Barrier Systems Installer Certification course.
NABA sets standards in quality assurance and instills pride and professionalism in the products, projects, and the people involved in the air barrier industry.
In the 21st century, the use of energy in buildings is a major concern. NABA's air/vapour barrier systems installer course teaches its participants how to make buildings energy efficient. It gives participants the chance to be a part of a national professional organization.
Training is an investment in the future and a way to succeed. NABA's elite training program gives you an edge in a competitive market. Whether you require skills upgrading, or a new career, NABA's Air/Vapour Barrier Systems Installer Certification course is designed to fit your needs.
NABA's training and certification programs provide a method to ensure that applicators have the skills and knowledge necessary to produce quality air barrier installations. Certification sets you apart from the competition and identifies you as a professional.
NABA has utilized the expertise of the Building Performance Training Institute for Construction (BPTIC) in the design, development, and delivery of their training system. BPTIC ensures that the training is technologically-advanced, competency-based and delivered specifically for the installer on-site. BPTIC is recognized as an elite organization for their professional development and delivery of training programs in North America