Air Barrier Technical Library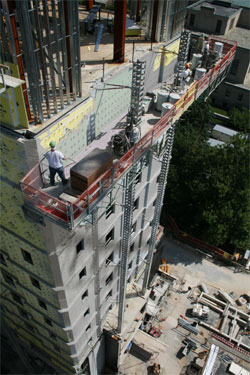 NABA TECHNICAL ARTICLES
AIR BARRIERS IN CANADIAN BUILDING CODES AND STANDARDS
Click here for a summary of the various codes and standards that reference air barriers in Canadian codes and standards. Note these National Building Code of Canada articles may differ in BC and Ontario. Check your local code for any differences.
The National Research Council Canada has released new energy efficiency requirements for Part 9 buildings which include requirements for air barriers. Click here to download these revisions and errata to the National Building Code of Canada 2010 as well as those to the National Energy Code for Buildings 2011.
AIR BARRIER CONSTRUCTION DESIGN DETAILS
AIR BARRIER MANUFACTURER DESIGN DETAILS
View our list of NABA Evaluated Air Barrier Assemblies that have completed a ASTM E2357 Standard Test Method for Determining Air Leakage of Air Barrier Assemblies. This test combines the primary air barrier material with supporting air barrier accessories such as transition membranes and sealants to form a complete air barrier assembly, near-identical to how a wall would be designed and built in your construction project.
For each air barrier assembly listing, you will find air barrier construction design details from the manufacturer which you can download and use in your project design. Click here to download these design details.
STATE OF MASSACHUSETTS DESIGN DETAILS
A number of general details were developed when the State of Massachusetts adopted air barriers in their current energy code. The details provide a number of wall systems and provides general guidance into some of the design considerations: http://www.mass.gov/eopss/consumer-prot-and-bus-lic/license-type/csl/sample-details.html.
Want to learn more about air barriers, their use in construction, cost benefits and design guidelines ? Check out of technical library and air barrier materials page.
NABA AIR BARRIER MASTER SPECIFICATIONS
Click here for the NABA Air Barrier Master Specifications
AIR BARRIERS
BUILDING ENVELOPES
VAPOUR BARRIER
MOISTURE / HUMIDITY
VENTILATION
MOULD
INSULATION
ENERGY EFFICIENCY / CONSERVATION